Benny Gold
Designer, Skater, Accidental Businessman
Mar 14, 2017
Photos By

Alex Souza
If the late John Berger taught us anything, it's that the best definition of art is "a way of seeing." That's why we created the Huckberry Artist Series — a partnership with some of our favorite creatives, a peek into their process, and a chance to see the world through their eyes. This go-around, we spent the day with fellow San Franciscan Benny Gold ahead of his upcoming collaboration with Teva for their very own Artist Series. By day's end, we walked away with a wealth of inspiration — plus, we'll never see a nearby downtown pawn shop the same way ever again.
"The paper plane icon, to me, has always been a symbol of youth."
Work's For Jerks
Benny Gold
InterviewedJanuary, 2017
The stereotype of the slacker skater has been around as long as skateboarding itself, and whether it's a conscious decision or not, Benny Gold is pretty much the antithesis of that tired trope. This guy lives and breathes his work. He's fiercely committed to his brand, his team, and his craft, but with a quiet and controlled intensity. His restraint is just another way of defying expectation. Considering Benny's lifelong passions are rooted in punk rock, his personality feels very zen-like, offering soft-spoken stories of skating his young daughter to school and sipping tea, rather than, say, flipping the bird to our cameras.

Ahead of his collaboration with Teva, we caught up with Benny at his studio in downtown San Francisco. Formerly a sketchy pawn shop, it's covered in a sort of urban camouflage — sly, hand-painted slogans that allude to the space's past, reworded to offer a cryptic hint that something creative's going on just beyond the building's facade. Once inside, it's a designer's paradise, from the floor-to-ceiling bookshelves down to the Smeg snack fridge. So we wolfed down some croissants and started asking questions.
...ON INSPIRATION
I fell in love with skateboarding at 10 years old when I was walking up into elementary school. This kid with long, flowing red hair smacked his board on the curb and went to class and I couldn't believe how cool it was. So I went up to him, we hit it off, and he helped me get my first skateboard. And ever since then my inspiration has always been through skateboarding and punk rock.
...ON THE PROFESSIONAL RAT RACE
After graduating college in the late 90s, I got these professional design jobs working for ad agencies and design firms. But in school, they don't tell you what a professional career is really like. You know, you really think it's going to be this, like super artsy creative thing and before you know it you're this junior designer working on things you don't really care about.
...ON HIS MANTRA AND THE GENESIS OF HIS BRAND
I made this sticker that said "Stay Gold" and it was a glider plane and it was meant to remind me of the reason why I fell in love with art and moved to San Francisco and I started posting it around town on my days off from work as just a little reminder to myself to not lose sight of the golden things inside of me and the reason why I was here. I put them around town, people started recognizing them. They started associating me with them, so I made a couple of T-shirts and gave 'em out at a party. Then my friend opened a store around the corner from my house called Huf and he was selling clothing. He hit me up saying "hey those shirts and stickers you make are pretty cool" so I put a couple in the shop and they sold.
Finally, a few years down the line, the stickers and everything took off and I was able to build a clothing brand around it. I left my full-time job and never looked back.
...ON WORK/LIFE BALANCE
When we say "work's for jerks" — we call our brand anti-workwear — it really doesn't mean not to work hard. It means you should value the stuff you do with your time off-the-clock. Be passionate and work on something that you love and care about. It's not really about what are you doing for the paycheck.
...ON THE PARALLELS BETWEEN SKATEBOARDING AND COMMERCIAL DESIGN
The Benny Gold brand is an independent brand. Like, there are no outside investors, no other owners, it's just me and my family and so there's no outside money. Everything we do, we do on our own. And a personal project can get out only so far. So partnering with a brand like Teva allows you to reach a broader audience. It's much like skateboarding where you're an independent skateboarder and the companies that you ride for help get your name out there and help spread what you're passionate about to a larger audience 'cause their following is bigger. Their outreach is bigger.
...ON THINGS COMING FULL-CIRCLE
When I was in high school one of my first jobs was at a shoe store, and I grew up in Key West, Florida so it's a very beachy town. We sold a lot of Tevas's shoes and I've always had a soft spot in my heart for the brand because they're connected to the memory of one of my first jobs ever in life. When I was approached to work with them you know it's really nice when things come full-circle and you're able to work on something that you remember as a child. And every time I go home, my family still wears 'em.
...ON HIS NEW COLLABORATION WITH TEVA
My work has always been very patterned based. I was looking at the straps and looking at the way a pattern would fit on them so I took our paper airplane logo, simplified it down to very geometric pattern and made it work. The paper plane icon, to me, has always been a symbol of youth. I wanted to enhance what Teva is already known for, I didn't wanna re-invent the wheel. I wanted this project to be my artwork coming together naturally with something they do.
...ON THE CHALLENGES OF BRICK-AND-MORTAR RETAIL
We recently relocated our store to Valencia Street. We were on a side street for years, the last six and a half years in the Mission neighborhood of San Francisco. And I think the retail landscape has changed so much. With online shopping and the state of retail, you kind of really have to offer something you can't get online. So we're going to have coffee and tea and big Chai pots and make it more of a hangout. We want to slow down the experience of our shop.
...ON ADVICE FOR YOUNG CREATIVES
The best advice I can give you is to be passionate whatever you're doing and create it because you really want to create stuff. But don't don't take for granted the personal project. If I never took the steps to create something for myself and made something just to make it, I wouldn't be sitting here with this interview now. I wouldn't be in a warehouse full of the product all around us. A personal project can go pretty far. [H]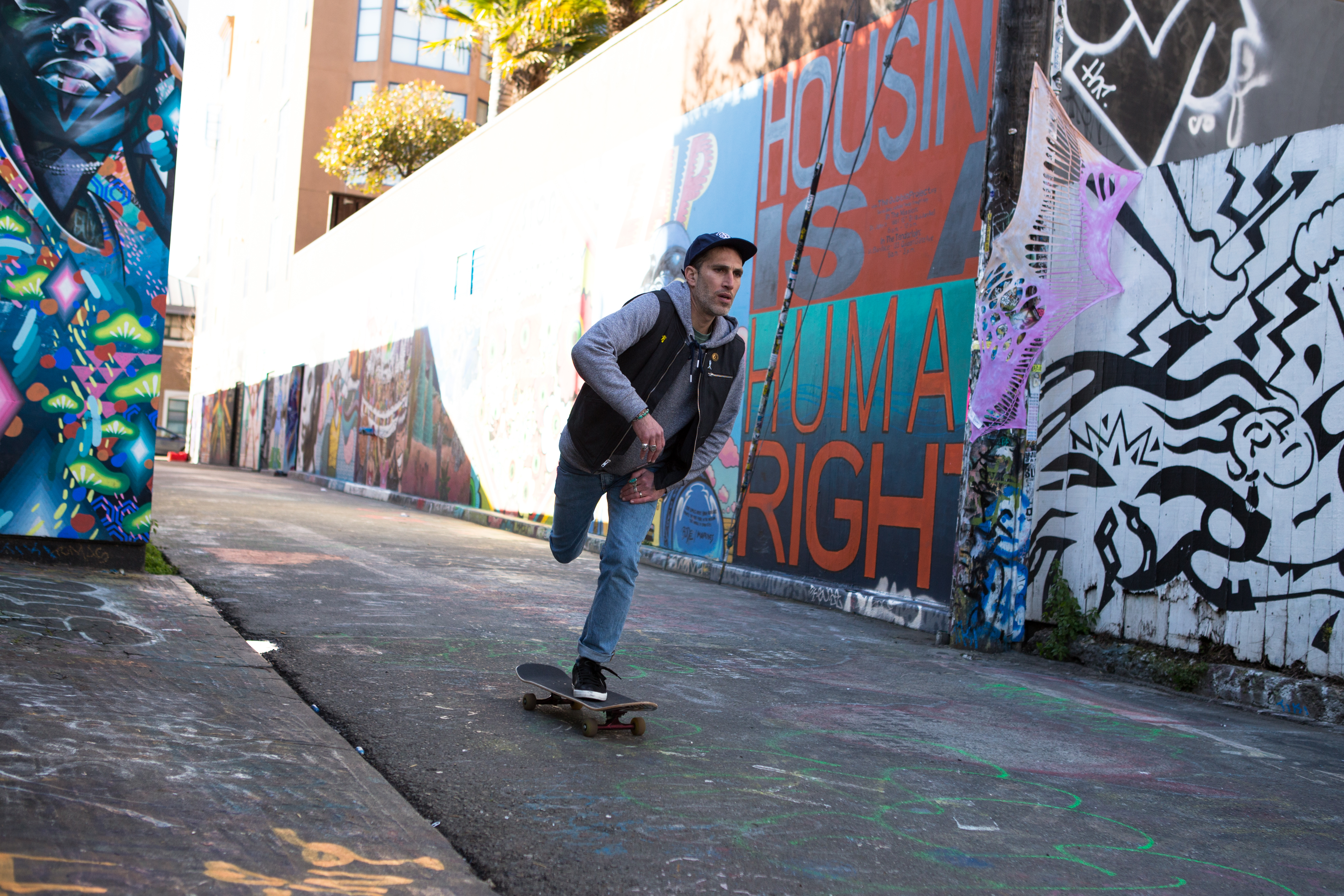 Benny'sfavorite things
"We call our brand anti-workwear", neon from Benny's retail location.

"The rents are like 50 times higher now. So it's harder to take a chance nowadays. But that being said, San Francisco is still beautiful, it's still creative."

The basement level of Benny's studio is a dim, comfortable hideaway complete with a pool table and a vibe in-line with a suburban teen's dream hangout — tons of artwork, beers, and the ephemera collected through decades of creative projects.