The Wolf Man
Werner Freund just might be a modern day werewolf. While he may not run around in cut off jeans sporting a shirtless six pack (Team Jacob, anyone?), he does run with the pack.
Freund established the Wolfpark Werner Freund, a sanctuary in western Germany that is home to 29 wolves hailing from six distinct packs from Europe, Siberia, Canada, the Arctic, and Mongolia. Since 1979 he has raised and lived insanely close to more than 70 wolves, and they treat him like the alpha male that he is.
A former German paratrooper, Freund is no stranger to living the dangerous life. In order to earn the trust and acceptance of the wolves, he must become a wolf himself. This means anything from howling at the moon, to biting into the legs of dead animals at feeding time. Some might call it commitment. Others might call it disturbing. We call it pretty damn hardcore.
It's a rare breed of man who is comfortable dragging a deer carcass around with his teeth; you really gotta hand it to the guy. But you also have to wonder -- does he kiss his wife with that mouth? Let's just hope he has plenty of mints on hand.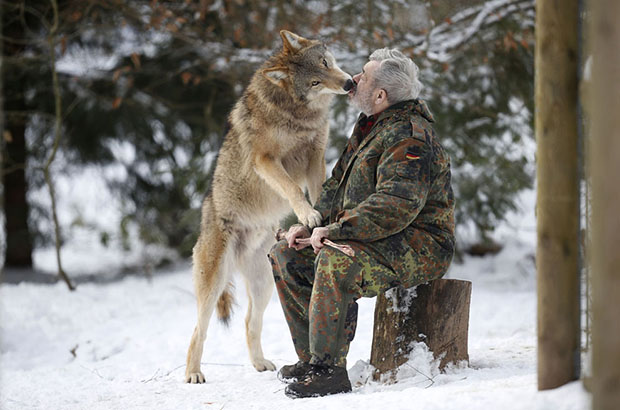 Via The Atlantic's In Focus blog. All photos taken by Reuters photographer Lisi Niesner.