The HemLoft Treehouse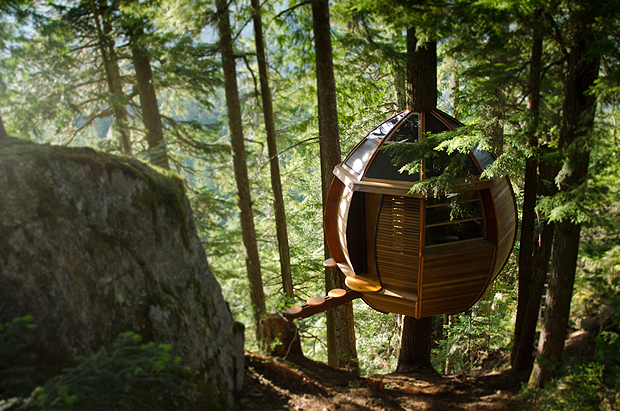 In 2006, Joel Allen had a quarter-life crisis. His software start-up folded, his plan to fundraise retirement failed, and he was another faceless, unemployed twenty-something. Then he met Old Man John (a magical looking character, he recalls, with long hair and a wispy white beard), at the Hills Garlic Festival, in the Kootenay Rockies, British Columbia.
While we're not about to say festivals in the Kootenays are prime networking opportunities, it worked for Allen, and he got his next job. He was commissioned as a carpenter on Old Man John's house, and there he learned his craft. Five years later, Joel Allen is now the proud builder of a treehouse in the Whistler mountains. His only problem is whether the treehouse is his.
Most dwellings come with a few anecdotes about the construction, a memorable note about a piece of hardware, and a nice wrap-up of how brilliant it is to live there. But Joel's got a story to beat all stories. For three years, he secretly carried tools and materials into a secluded Whistler hillside, quietly building a treehouse on a sturdy Hemlock.
Despite setbacks (the biggest being the 2010 Winter Olympics, when Allen feared being discovered and identified as a security threat), the wooden orb eventually materialized. It cost Allen around $6,500 to build, and with the help of his girlfriend Heidi, he finished it in 2011.
The treehouse is 200 square feet, including a loft for sleeping, a desk workspace, an outdoor deck, and a view of the Tantalus range. Eighteen-foot "ribs" give the structure support, and it's triangular based design offers structural integrity.
The HemLoft's hidden in an old growth forest, above a boulder field, beyond an overhanging crag. Allen won't tell you more than that. After releasing photographs of his project to Dwell Magazine, he's come under some heat—the HemLoft's built on crown land (or, specifically, in a crown tree).
At this point, the HemLoft's future's a little dubious. Over 16,000 people recommended he try to buy the land, but Whistler's property values are astronomical (think multi-millions), and the structure may have to be disassembled. Whatever it's fate, the HemLoft is currently enjoying its moment in the sun, and Allen's DIY story is an inspiration. The HemLoft gives a sense that the industriousness of the common man can still lead to success, and it's testament that dreams do come true—at least until the Crown wakes up.
Images and video via: The HemLoft. For more, see The Hemloft in Dwell.