Provisions: Squid Salad and Bees Knees Collins
The second in a series of four summer recipes, featuring fresh, seasonal food and drink. For our first edition, see Provisions: Mussels, Beer and Bourbon.
When we first sat down at Local's Corner, it was unconventionally warm. A breeze tried to creep through the room, but the space's large windows were welcoming all sun. We cooled ourselves on the marble countertop while chef Timmy Malloy, in the open-concept kitchen, wasn't yet breaking a sweat.
Using his favorite utensil, a fabled spoon, Malloy spread a dallop of yogurt in a pure white bowl, then plated fresh peach slices, frisee lettuce, and his signature mixture of squid, oregano, and chili. The room stilled, and we concentrated our forks.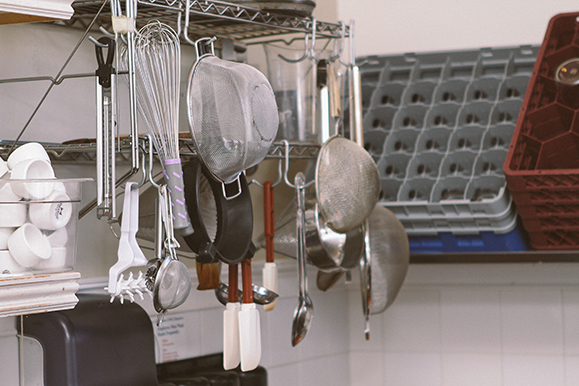 To say there's one dish that defines summer is a big superlative swipe. But we're convinced. After we'd passed the squid salad around, every head nodded in agreement: this was it—our favorite dish of the season. Was it the heat? Were we feeling faint? Or was it just that good? We needed another bite.
The vinegar opens up the tartness of the peach, and the oregano adds enough spice to bring the dish back from being too sweet. The creamy texture of the yogurt balances the consistency of the squid, and if you do things in a full bite—squid, yogurt, peach, frisee—all ingredients compliment politely.
Mixologist Vince Toscano, from Rye, brought his own seasonal classic to the meal. Working with the Bees Knees, a Prohibition Era favorite, Toscano added a modern touch with a splash of orange bitters and served it in a Collins glass, rather than the traditional martini.
The hint of orange contributed enough of the citrus to bring back the lingering peach, and the spritz of soda gave carbonation for digestion. We recommend serving the drink after a light meal, on a patio, in the shade, with some good company and conversation. And let us be the first to say, Welcome to summer.
Squid Salad with Peaches, Yogurt and Oregano
1 pound Fresh Squid (mix of tubes and tentacles)

1 head Frisee Lettuce, cleaned (root and tops removed)

1 firm Peach (slightly under ripe)

1/4 cup Plain Yogurt

Salt & Pepper to Taste*
For Marinade:
1/4 cup Extra Virgin Olive Oil

2 Garlic cloves, minced

3 Scallions, sliced thin

1 tablespoon Fresh Oregano

1/4 teaspoon Chili Flakes

1/2 teaspoon Apple Cider Vinegar
*Timmy Tip: Season as you go. This helps prevent over seasoning and allows the flavors to remain balanced. You can always add more at the end, but once it's added, you can't take it away, so taste and season (and repeat) throughout your prep.
Directions:
Bring a pot of lightly salted water to boil. When at a rapid boil, drop in squid tentacles for 45 seconds to a minute. Remove and place on a baking sheet, then drizzle lightly with olive oil. Repeat with tubes.
Let tubes cool, then cut into rings and mix with tentacles. Once all squid is cooled, mix marinade ingredients in a medium sized bowl and toss in squid. Refrigerate for an hour (or up to a day).
When ready to serve, cut peach into slices. Toss frisee and peach slices in a small bowl with a splash of lemon and olive oil. Place yogurt in bottom of serving bowl, then place a few peach slices and frisee, add squid and repeat, continuing with layers until content with presentation.
Bees Knees Collins
*For honey syrup, heat 1/2 cup honey in a saucepan, add 1/2 cup water, stir until fully incorporated. Once combined, pour into container, let cool, then refrigerate.
Directions:
Mix ingredients in a shaker with ice, then strain over ice in a Collins glass. Top with soda water, and add lemon peel as garnish.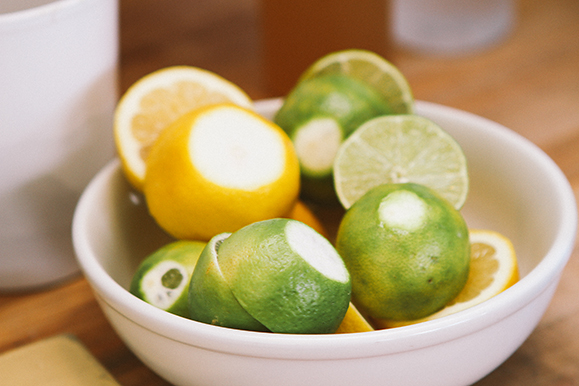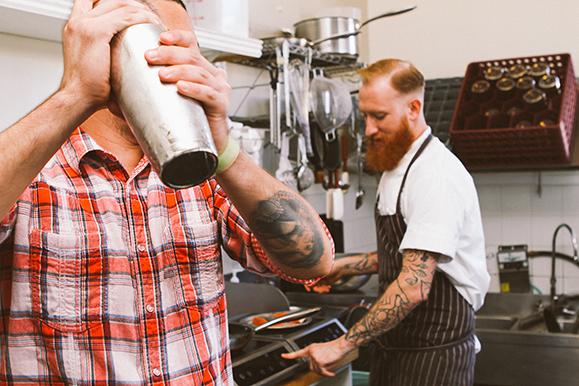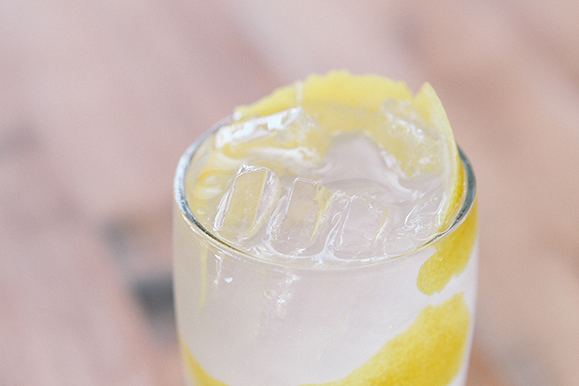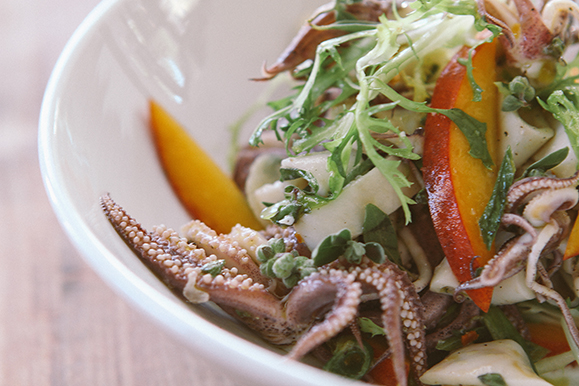 For more, visit Timmy Malloy at Local's Corner and Vince Toscano at Rye, and tell 'em Huckberry sent you.