A Ditty on Denim
This post is by Pete Searson, who in addition to being a good friend of Huckberry, is the co-founder of Tellason, one of the finest denim makers on the planet. We instigated this post by asking Pete one simple question: "Why is Japan so damn good at denim."
The U.S. was hungry to modernize post WWII. The war was over. The attitude was up. Progress and modernization were running hot. Whatever speed was customary pre WWII was now viewed as a snail's pace with scientists leading the way in medicine, aeronautics, and industrialization.
At this point, 95% of the things people wore were made in the U.S. There must have been a strong feeling to "make more" since the baby boom was in full effect and people were hungry for more stuff, more often.
Mills felt this pressure and responded with bigger, faster, machines that were able to do the job, maximizing productivity. This must have been an exciting time to be an owner of a manufacturing facility with all that demand out there and now they were armed with the machines to make it.
As the new modern looms moved in, so exited the old horses. I would imagine they were not treated well and probably sat out in the elements, left for dead. Around the same time, the romance of American film was deeply rooted around the world and the "American Dream" came alive in places like Europe and Japan.
Early films and images from the late 40's and throughout the 50's represented a counter culture blast of motorcycle life (Marlon Brando), sex appeal (Marylyn Monroe, Jane Russell) and, of course, rock and roll. We loved it, and so did everybody else.
This was a controversial time. Parents hated what they didn't know, and the kids ate it up, hungry for something they could get their chops on. Japan had spent 100's of years appreciating the finer points in life with a real value on quality, not quantity.
It must have been an exciting moment for the Japanese as they bought tickets to come to the U.S. to explore the possibilities and discover these old shuttle looms sitting in the back lots of these factories. Cone Mills was and still is the largest denim maker in the world and were probably happy to be rid of these old machines as they were patting themselves on the back with their increased productivity.
The Japanese brought their new (old) machines back to Japan and applied their skills to making their own beautiful denim fabric. Cone obviously did not give up all of them. Their White Oak Plant still has 30 or so machines but that is it.
Today, there won't be new machines made to the old pre WWII standards, so the Japanese will keep making old style denim for people like us as long as we keep ordering it. Lucky for us, this story about the history of denim is getting into the brains of many people out there who have stopped buying disposable goods and have set their eyes on something more meaningful.
The subtleties defining this product will never appeal to the masses but the audience is growing slowly. We applaud the Japanese for having the love for something made well with the right people with with the right intentions.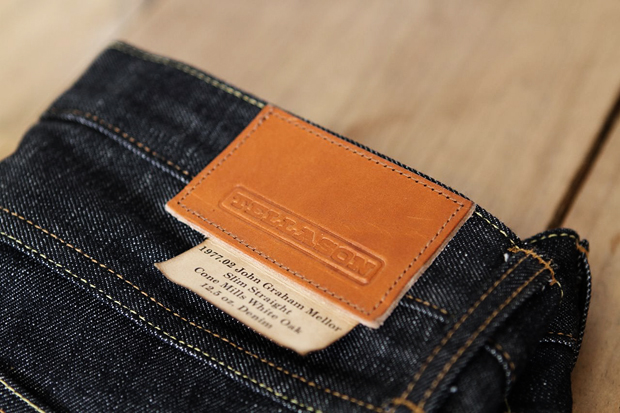 If you're looking to take your denim game to the next level, Tellason is a great place to start (and end).
Photo credits: #1 via Chicago Past. #2 via Kemon01. #3 via McDonald's. #4 Marlon Brando on Set of The Wild Ones, shot by Phil Stern. #5 via Bill Wornall. #6 via Denim Hunters.