NACA and NASA: The Early Years
"To improve life here, to extend life to there, to find life beyond." ~ NASA Mission Statement
Americans have always been captivated by flight, space exploration and the mere thought ...
"To improve life here, to extend life to there, to find life beyond." ~ NASA Mission Statement
Americans have always been captivated by flight, space exploration and the mere thought that life extends well beyond Earth. However, it wasn't until the Soviet's launch of Sputnik in 1957 that the U.S. began to truly focus on its own infantile space efforts. U.S. Congress urged immediate and swift action for the formation of a new federal agency which would conduct all non-military activity in space. President Dwight D. Eisenhower advocated a more tepid and measured approach. After months of deliberation and the formation of several committees to review what this new agency would entail, President Eisenhower finally signed the National Aeronautics and Space Act in 1958, officially forming NASA. NASA absorbed the operations of NACA (established in 1915 to institutionalize U.S. aeronautical research efforts) including its 8,000 employees, an annual budget of $100mm, three major research facilities and two small test facilities.
Below are some of our favorite pictures from the early years of NACA and NASA. Many of these pictures gave me the same visceral feeling I had when I watched 2001: A Space Odyssey.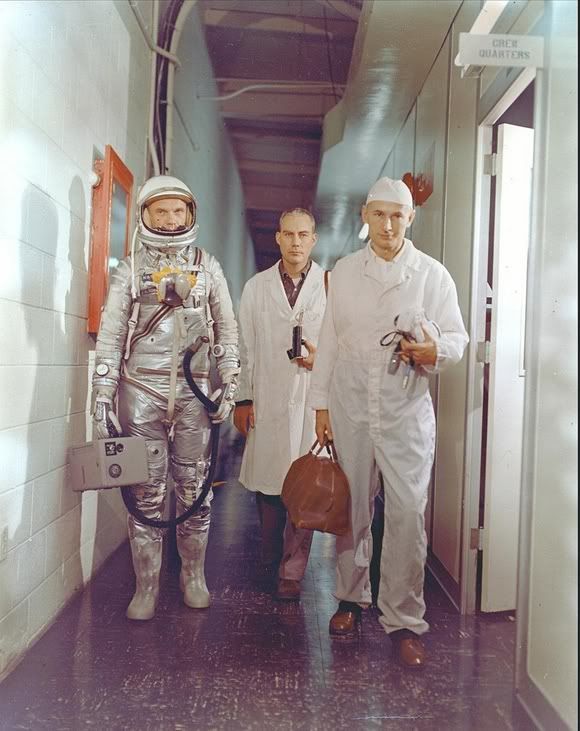 Astronaut John H. Glenn Jr., NASA flight surgeon William Douglas and equipment specialist Joseph W. Schmidt leave crew quarters prior to the Mercury-Atlas 6 mission. 1962.
A briefing is given by Major Rocco Petrone to President John F. Kennedy during a tour of Blockhouse 34 at the Cape Canaveral Missile Test Annex. 1962.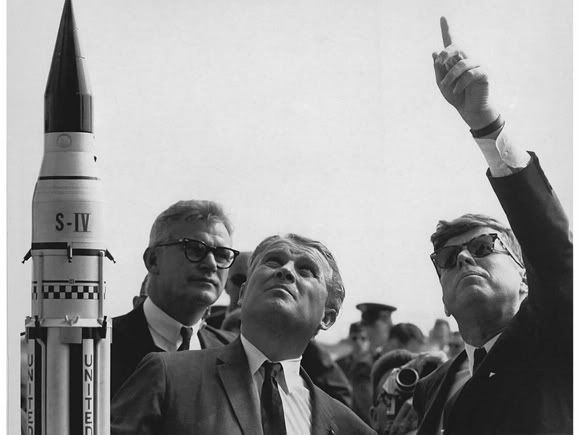 Dr. Wernher von Braun explains the Saturn Launch System to President John F. Kennedy at Cape Canaveral.
A meeting of the National Advisory Committee on Aeronautics in 1929.
Apollo 11 launch spectators. An estimated one million persons visited the Spaceport area to see the historic flight, this nation's first attempt to land Americans on the lunar surface. 1969.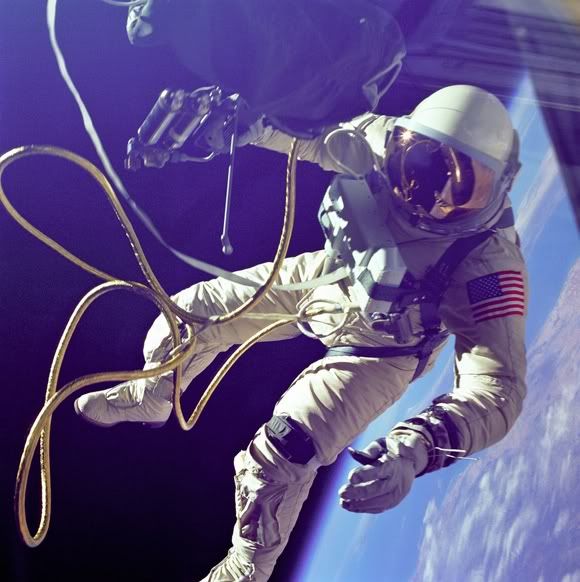 On June 3, 1965 Edward H. White II became the first American to step outside his spacecraft and let go, effectively setting himself adrift in the zero gravity of space. For 23 minutes White floated and maneuvered himself around the Gemini spacecraft while logging 6500 miles during his orbital stroll. White was attached to the spacecraft by a 25 foot umbilical line and a 23-ft. tether line, both wrapped in gold tape to form one cord. In his right hand White carries a Hand Held Self Maneuvering Unit (HHSMU) which is used to move about the weightless environment of space. The visor of his helmet is gold plated to protect him from the unfiltered rays of the sun. Really hard not dropping a Daft Punk reference in here. Oops.
Reduced gravity walking simulator. 1963.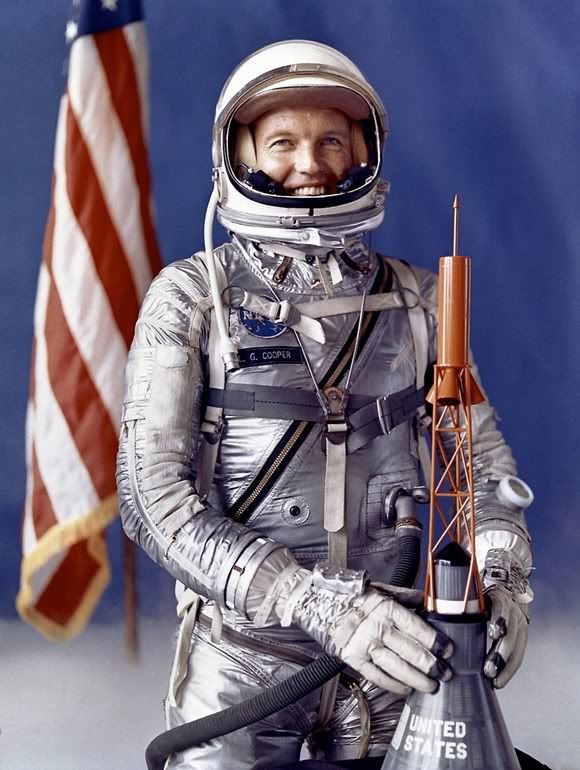 Astronaut L. Gordon Cooper, Jr., one of the original seven astronauts for Mercury Project selected by NASA on April 27, 1959.
Cowboy Joe (NACA High-Speed Flight Station test pilot Joseph Walker) and his steed (Bell Aircraft Corporation X-1A). 1955.
Inflation test of 135 ft satellite in Weeksville, NC. 1961.
Mission Specialist Bruce McCandless II ventured further away from the confines and safety of his ship than any previous astronaut ever has. This space first was made possible by the Manned Manuevering Unit or MMU, a nitrogen jet propelled backpack. After a series of test maneuvers inside and above Challenger's payload bay, McCandless went "free-flying" to a distance of 320 feet away from the Orbiter. The MMU is controled by joy sticks positioned at the end of the arm rests. Moving the joy sticks left or right or by pulling them fires nitrogen jet thrusters propelling McCandless in any direction he chooses. A still camera is mounted on the upper right portion of the MMU. This stunning view shows McCandless with the MMU out there amongst the black and blue of Earth and space. 1984.
NASA Namesakes: Portrait of General George C. Marshall in Army uniform. The Marshall Space Flight Center, a NASA field installation, was established in Huntsville, Alabama, in 1960.
All of the pictures above and most of the descriptions come from an incredible, curated section of Flickr called NASA On The Commons. And as always, Wikipedia is a tremenedous resource.
---
Shop Sales Exclusive To Huckberry Customers
---