HB Interviews: Steve Thomas, Graphic Artist
Steve Thomas, aka The Master of Propaganda Artwork, is a Minnesota-based graphic artist who produces propaganda-style posters that are cool enough to punch a hole in the space-time continuum...
Steve Thomas, aka The Master of Propaganda Artwork, is a Minnesota-based graphic artist who produces propaganda-style posters that are cool enough to punch a hole in the space-time continuum. The Space Shuttle may idle in an empty hangar, but with Steve's retro-futuristic posters, you can Ski Pluto, Explore the Crimson Canyons of Mars, or Zipline An Asteroid Belt from your arm chair. We pulled a few of our favorite Steve Thomas posters into our shop this week and to kick things off, asked Steve a few questions to elicit the methods behind his madness.
Steve Thomas, space travel posters.
How'd you get into creating propaganda-style artwork?
I've always been interested in the advertising art from the early 20th century. The combination of art and text, with a message, appealed to me. The propaganda style posters seemed like a natural progression from the vintage space and Star Wars travel posters I'd been doing. That and I wanted to try something different. Of course, I needed a subject matter that I was interested in and the arcade games from the 80s fit perfectly.
Where do you get your inspiration from?
As mentioned above, a lot of my inspiration comes from combing through vintage travel, propaganda and product advertising art from the early 20th century. Google searches and sites like AllPosters help feed that inspiration. I'm also inspired by the retro-futuristic art from the mid 20th century. The "Amazing Stories," "Planet Stories," "Eerie," and "Weird Tales" pulp magazine covers yielded some great art back in the day.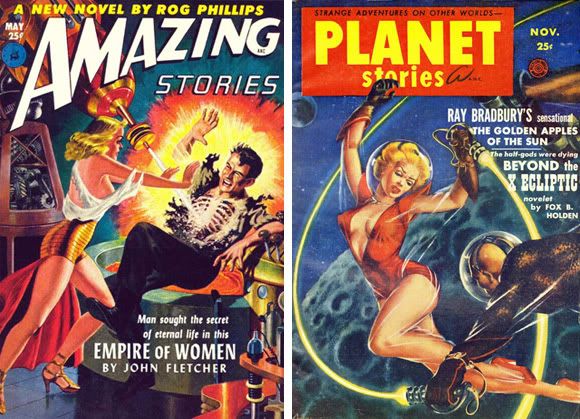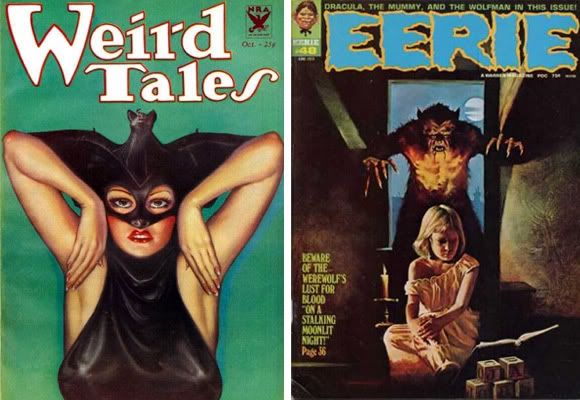 Vintage pulp magazines.
Can you talk about the process of creating a piece?
It starts with an idea and a direction. Will it be a travel piece, propaganda, product ad, or just a retro image. Next I go about looking at references to get a feel for what I'm trying to emulate. This goes back to Google image searches. I'll then do a lot of thumbnail sketches to work out a layout that I think works. From there it's getting down to the art itself, which I do mainly right on the computer. It's rare that I'll draw something and scan it in to turn it into a color piece. During this whole process, I've been thinking about the message I want to put over the art. That usually consists of a main "headline" with a tagline or two. If I'm lucky I'll come up with a tagline that has a double meaning. Most of them are very tongue-in-cheek. The last thing I'll do is choose the right font. This can take a while and the computer is great for this as I can change the font instantly to see what is working. When all is said and done, and if I want to make it look aged, I'll take it into Photoshop and overlay a texture on it. This is what I've done to the arcade propaganda pieces.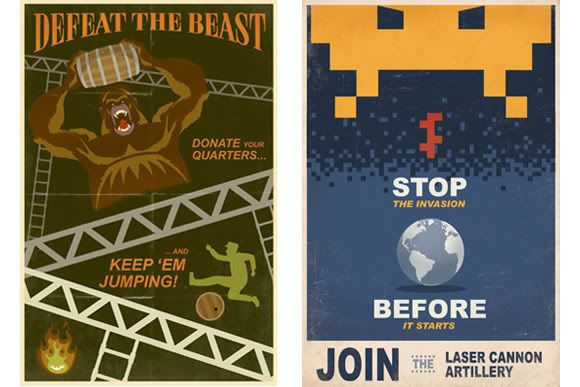 Steve Thomas, arcade propaganda posters.
Do you listen to music when drawing?
I used to more than I do now. But when I was (or if I do) it's a mix bag of just about everything from classic rock to alternative to songs from movie soundtracks to Beastie Boys, House of Pain, Red Hots, Fleetwood Mac (yes, I did write that), White Stripes, etc. I'm not too fond of Country.
Most of your pieces are equal parts message and graphic. When designing, does the message follow the graphic, or is it the other way around?
The general message will precede the graphic, but the physical placing of that message always follows the graphic.
What are 5 websites you frequent that are off the beaten path?
Super Punch: A great site for pop culture art, comics, reviews and is updated frequently.
Rampaged Reality: Again, a great site for pop culture art and a place to see what other artists are coming up with.
Geek Dad: A bit of everything to serve the geek in all of us.
Planet Pulp: A group of artists putting their own spin on pulp culture.
Muddy Colors: At one time I wanted to be a fantasy/sci-fi artist creating art for collectable card games, rpg's and book covers. I did a little of that (and may look into doing it some more in the future) but found something I like a little bit better. This blog is written by a number of well-known masters in their craft, all of whom are at the top of the fantasy/sci-fi art genre. One of the editors of "Spectrum: The Best in Contemporary Fantastic Art" (which is in it's 19th edition) occasionally will write a blog post as well.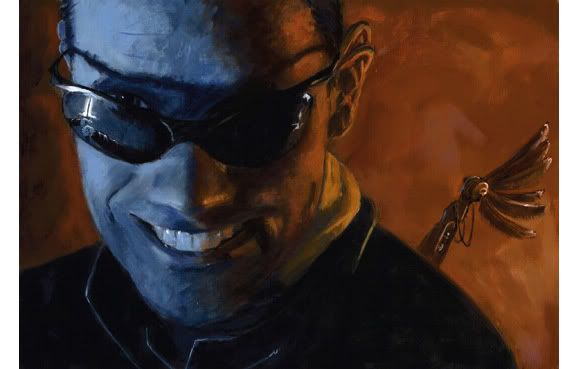 Steve Thomas, self portrait.
If you had to create a propaganda-style piece for reality television, what would the message and graphic look like?
The message would be something like "Become a Star Overnight" with a tagline of "For basically doing nothing."
---
Shop Sales Exclusive To Huckberry Customers
---