10 Things: Corey Arnold, Alaskan Fisherman and Photographer
Ed. Note: Corey Arnold's official title reads photographer and Alaskan commercial fisherman, but like the Bering Sea which he called home from 2002 to 2010, there's a lot more depth to him than meets the eye. Equipped with a wry sense of humor and a medium format camera often wrapped in ziplocs and duct tape, Corey is able to tease out the soul of a motley cast of characters, including fishermen, fish, fishermen who sleep with fish, and swans who beak unknowing sunbathers.
In 2010, Corey released the first part in a lifelong series titled Fish Work: The Bering Sea, which documents the seven years he spent as a deckhand on the crabber f/v Rollo (also chronicled by Discovery Channel's hit show, The Deadliest Catch). His latest project, Fishing With My Dad 1978-1995, showcases his early fishing trips with his father and his jones for knee-high socks and short shorts.
Today, Corey escapes the Portland rain for two months a year to captain a wild Sockeye salmon fishing operation in Bristol Bay, Alaska. The rest of the year he spends living the life we wish we lead: skateboarding, gardening, and cat maintenance. Oh, and travelling the world to shoot spreads for clients such as Outside Magazine, Monocle, Esquire, and The New Yorker.
Corey was kind enough to share some of his favorite moments from his travels for assignment and personal projects, which you'll find below.
I was shooting for Audubon Magazine along the Gulf of California in Mexico. The story was about the endangered Vaquita, the smallest living cetacean (dolphin). So naturally I took a portrait of this guy. Around town, they call him "the rat". For 5 pesos you can hang out in his "chill space", a giant covered nearly underground space and sleep for an hour in one of his comfortable handmade hammocks.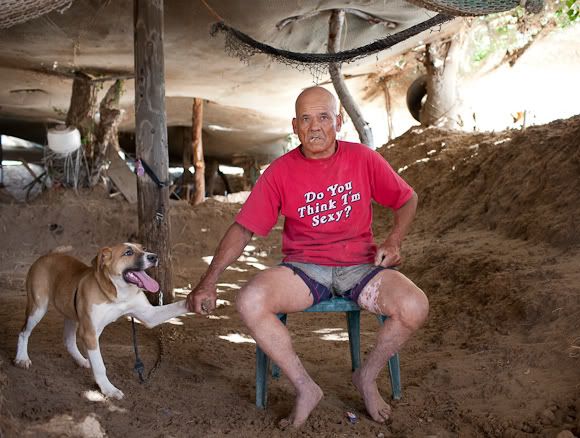 I was taking portraits of fishermen at the Vigo fish market in Galicia (Spain), which is the largest fishing port in Europe. These guys volunteered to pose with this Blue shark. I asked them to hold it over their heads (in English), which created about 5 minutes of massive confusion lost in translation and this picture came out of the fluster.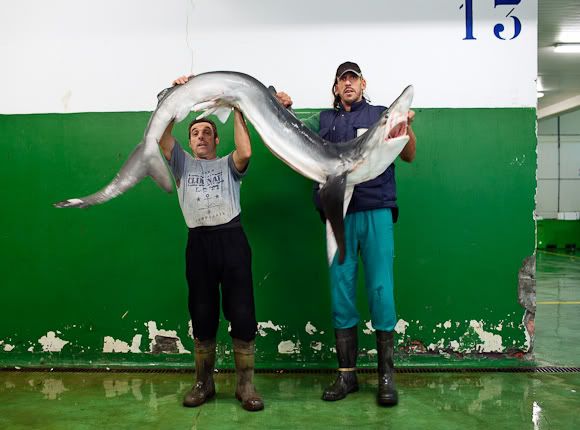 On assignment for En Route Magazine: They sent me to the Mediterranean where I was to shoot a story on the food of Greece. This woman owned a little fish restaurant off the beaten path, and when they found out I was coming from the U.S. for a visit, she prepared a massive feast. I asked to take her portrait holding a fish (via a translator). She refused and said she was too fat to be photographed. With a bit of convincing, she agreed to sit for a simple portrait. Then suddenly she began yelling at all her relatives who quickly scattered. They returned with fish, squid, lobster, etc. and she started covering herself in seafood. I had no idea what was happening, but it was awesome.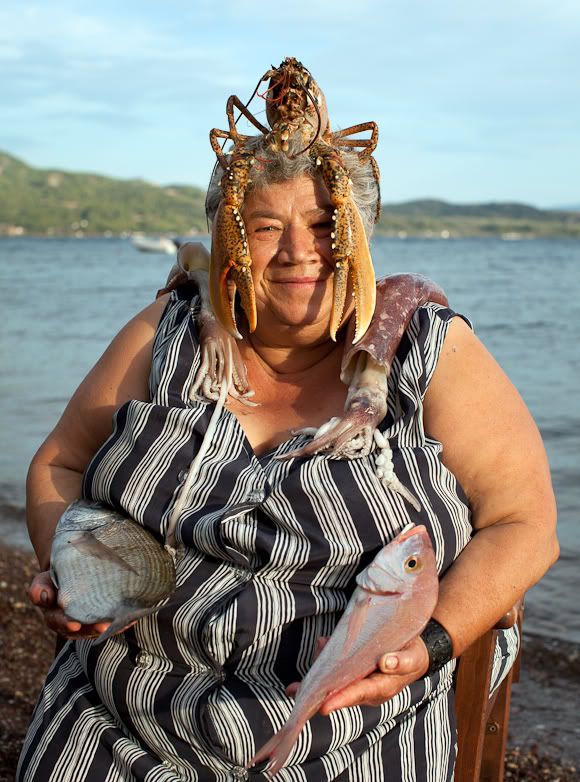 While at work as a deckhand in the Bering Sea: We were on our way back to Dutch Harbor after filling the boat with King Crab and preparing to head out to a Halloween party back on shore. My fellow deckhand, Matthew tried on this horse mask. Our little boat kitty was walking by and so the two met for a portrait.
Anyone that knows my photos knows that I don't use almost any digital manipulation. But, I had to shoot a cat humiliating a dog for Alpo dogfood and we had the humane society on set to make sure no one was getting hurt. The only way to pull this one off was via some trickery and photoshop magic. This shot consists of about 10 combined images animal parts.
I spent the day at Disneyworld in Orlando by myself a few years back, stalking unknowing visitors. I thought I was the only person that had ever visited Disneyworld alone until I spotted this guy on his own personal journey.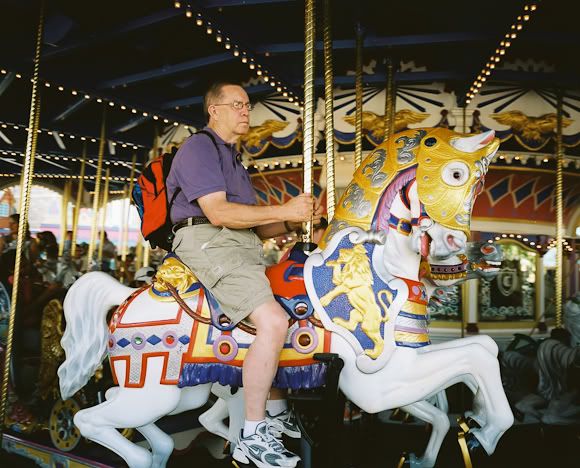 Last year I was commissioned by the PEW foundation to photograph the state of EU fisheries. I was on a French trawler and took a little bycatch snooze with baby sharks.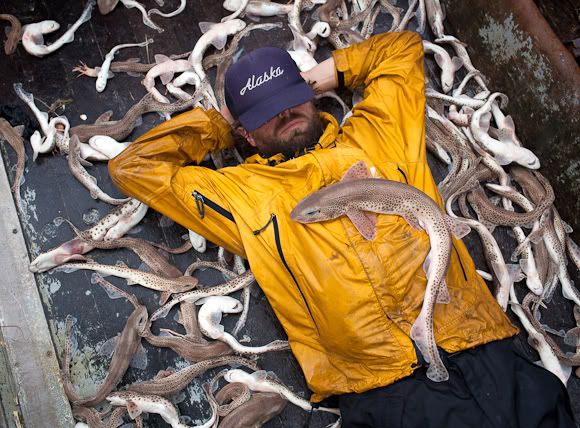 I used to live in Norway and in the summers spent time a lot of time by the sea. The swans were complete assholes, and would swim up to unknowing sunbathers and beak them.
In Bristol Bay, Alaska, we've trained dogs to help us pick salmon from the nets. Dogs are putting Americans out of work.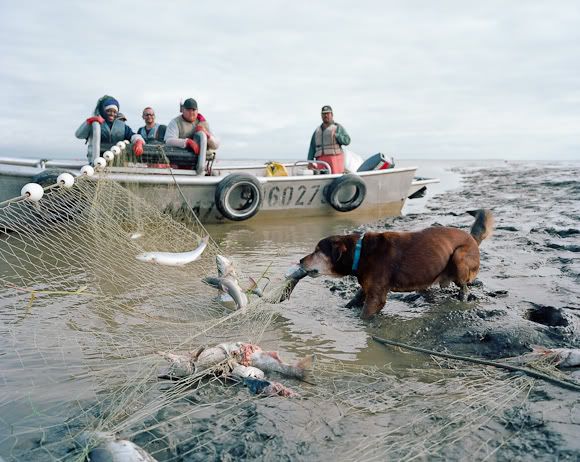 When in Orlando, who wouldn't visit the Holyland Experience where you can meet Jesus and watch a live version of the bloody and brutal Passion of Christ reinactment. This is a picture of Jesus and I before he was whipped to a bloody pulp in front of a crowd of freaked out elderly people.
---
Shop Sales Exclusive To Huckberry Customers
---